GitX update
I've release the third update to my experimental GitX branch. You can download the binary here.
I've added an improved search interface for finding commits in the history.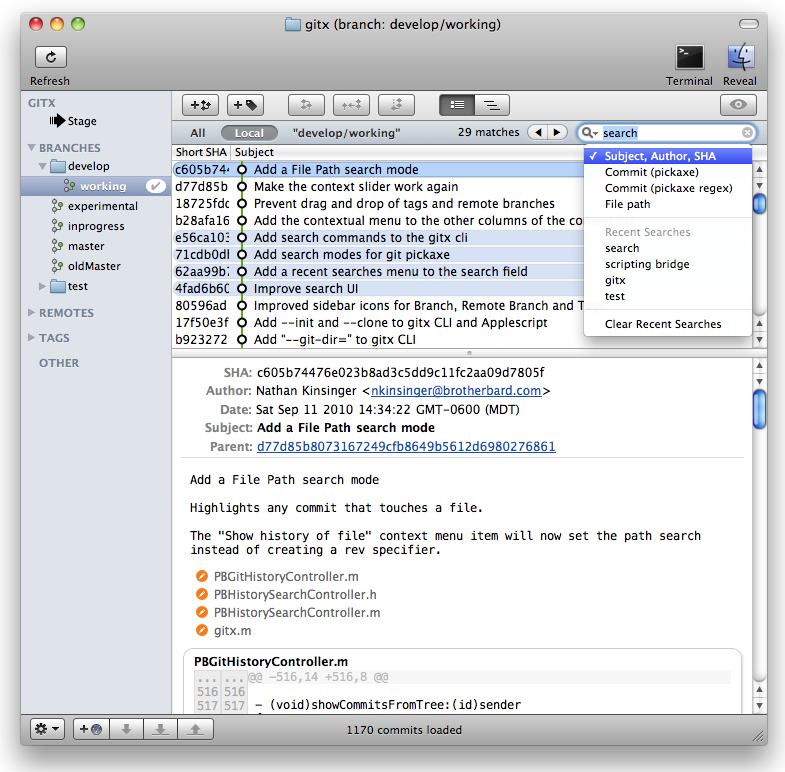 Commits that match the search are highlighted in the table view and you can step between them with the stepper or with cmd-G and cmd-shift-G.
Git's pickaxe search is supported. This means that any commit that adds or removes the matching string or the matching regular expression will be highlighted. In addition there is a search option for any commit that touches a given path.
There are two new table columns, one for relative dates and one for a short SHA (right-click on the table view headers to show or hide individual columns).
There are new commands for the gitx command-line tool that allow you to control the new interface elements (like the branch filter), start searches, and init a new repository and open it up in GitX.app. For example: gitx --all develop/working will open the current repository in the history view, select the All branch filter to show the history of all commits and then select the commit pointed at by the branch develop/working. See gitx --help for more information.
You may need to re-enable the terminal usage by going to the menu GitX->Enable Terminal Usage…
In addition to the above there are quite a few bug fixes. If you find any more let me know, if you fix any then send me a Github pull request :)